Local Attractions
Within ten minutes walk around the bay you come to all the amenities of Westray life - the shops, the bank, swimming pool, Heritage Centre, Gallery and Pierowall Hotel. A little further out of Pierowall is sixteenth-century Noltland Castle and from there it is a short way to one of Westray's best beaches at Grobust.
For the birdwatcher, a trip to the cliffs of Noup Head and Castle o'Burrian offers a wealth of seabirds such as fulmars, kittiwakes, puffins, skuas, gannets, razorbills and the guillemots or "aaks" - local name for the inhabitants of Westray.
For the walker, the Westside Walk is a bracing three and a half hour cliff top walk up to Noup Head lighthouse and there are many other gentler walks around the island.
Westray is well-known for its arts and crafts - so why not follow The Craft Trail, from jewellery to knitwear to painting and pottery - there are many workshops to visit.
Many of Westray's attractions can be found at the Westray website run by Westray and Papa Westray Tourist Association.
Other Sources of Information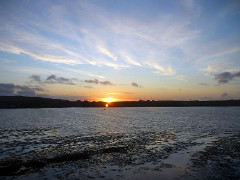 Sunset over Pierowall Bay